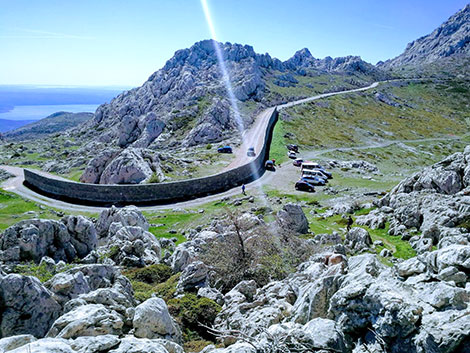 Start of this breathtaking tour is at the end of the asphalt road above highway tunnel Saint Rok. Ascent starts following the old macadam road. Master's road is one of the most famous Croatian roads which was originally built for faster connecting Zadar and the continental part of Croatia passing Velebit Mountain.
It was built by great engineer Kajetan Knežević, a major in Austrian army. The road has been constructed between 1825 and 1832 and today it is still preserved in its original formation. Our first stop is in front of the St. Francis Church overlooking Tulove Grede. The Church was built by Francis I in 1932 after the completion of the Master's road. This is the place where Winnetou was filmed.
After couple of kilometers we will reach chapel dedicated to Ivan Tomljanović – Gavran. The scenery along this route is truly stunning. You can see entire Zadar hinterland and Islands scattered over blue Adriatic. First break will be when we reach the highest point on our route – Mali Alan pass at 1.045 meters above sea level. Afterwards we descent through beech forests on the Northern Velebit slopes. We pass beautiful landscapes, pastures, meadows, forests – parts of Northern Velebit Nature Park. One can often hear: "One life is not enough to get to know Velebit."
In the vicinity of Shepard's houses we will take water from the well, rest on the meadow and continue. Finally we descend using macadam road until Gračac. Once again we need to ascend until we reach Prezid pass. The last part of the route is asphalt descent until Zaton Obrovački settlement.